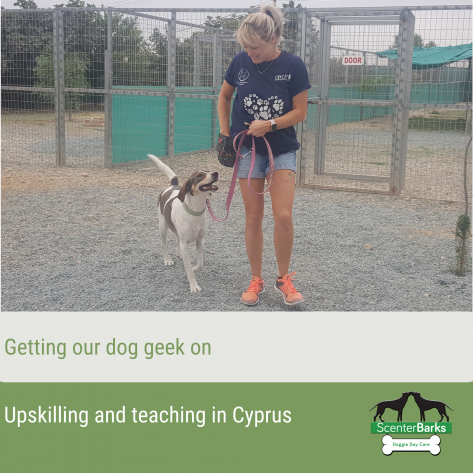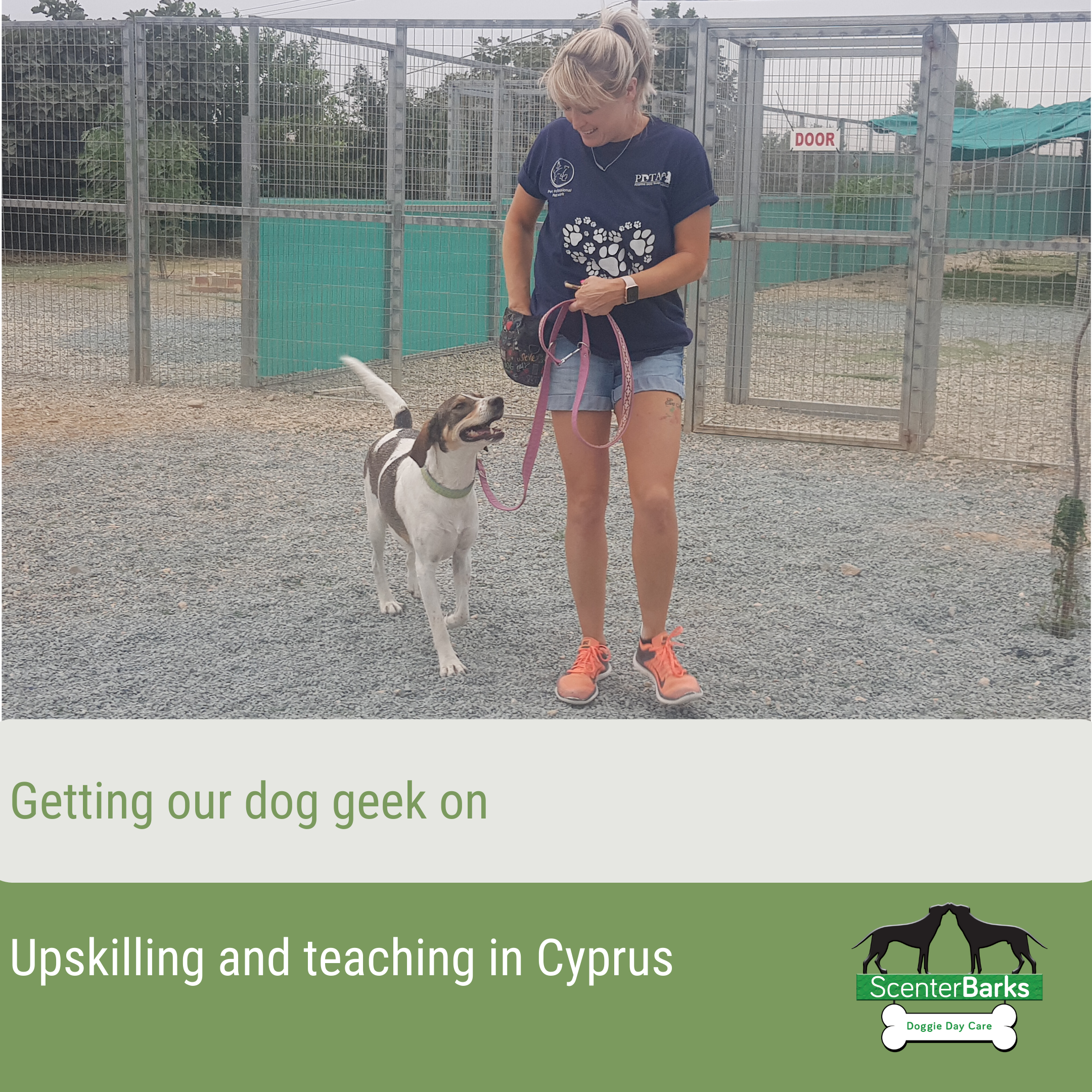 2019-11-324

on

Wed 20

Nov
Whilst we were in Cyprus we had the opportunity to work with some amazing dogs, alongside some fantastic dog professionals. From dog trainers, behaviourists, vets and other pet sitters.
We were lucky enough to be offered free workshops from Jamie Pound at UK Sniffer dogs, Helen Motteram at Pet Professional Network, Stephie Karageorgis and Canine first Aider Rachel Bean which provided essential skills and knowledge we could bring back to the wonderful dogs in our care.
The Scentwork was a particularly fascinating workshop and something we certainly had never delved into on this level before. We were even shown on Cypriot TV on several channels. Check out the video here: https://business.facebook.com/Scenterbarks/videos/677779896078708/ This is definitely an enrichment activity we would like to try with our centre dogs, some will go absolutely mad for it!
The trip helped us understand the need of the dogs that come from foreign rescues that we have in our care, working alongside the behaviourists we not only got confirmation that our techniques for settling a nervous dog into our centre were the best way to reassure them in a positive manner, we also learnt alternative methods that we can attempt to ensure we are not pushing the dogs too quickly.
What was evident was how scary and confusing the travel must be for these dogs who then arrive in the UK, into a home with objects they've never seen before and usually meeting an owner for the first time who is most likely desperate for a cuddle which would be overwhelming for any dog!
If you do decide to rescue from abroad, please bear this in mind and give them some time and space to adjust to your life and a chance to unwind and process all that has happened. They may also not be as used to human interaction so taking it slowly, as frustrating as it can be, will build up some trust between you and your new family member. This will certainly help them settle in quicker and help relieve some stress! 😊
We also used our skill set from the daycare set up which is invaluable to these dogs. ScenterBarks team take things slow with each and every dog that comes in. Some dogs require it, some dogs are happy to jump straight in. Reading that body language is vital and picking up on not only general dog signs, but that particular dogs signs! Each dog has it's own way of communicating and picking up on that is essential. It's not always as black and white when reading body language!
This is the same for training, not one shoe fits all! You have to try a bit of trial and error to find out what makes that dog tick, what is the motivator? Toys? Treats? Cuddles? then using that to make that dog feel more comfortable around you.
We also are good at thinking of solutions or things we can do on the spot! For example, acclimatising the pups to their travel crates before they set off.
Our niche however, which is quite a unique skill to have – is mixing dogs! Most of these dogs share their kennels with a carefully selected dog friend (or friends) for them.
What an awesome trip to be able to bring so much knowledge home to the UK. To see this put into action, keep an eye on our update on our Facebook page!