How to find the right dog walker for your dog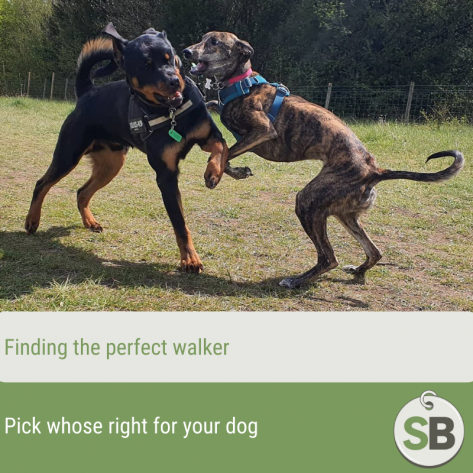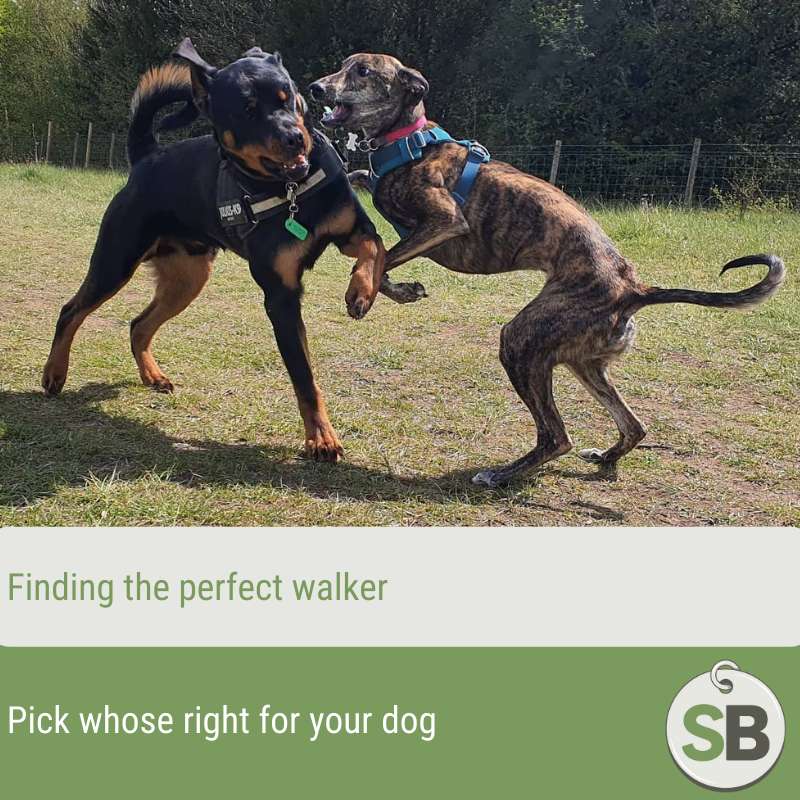 2021-05-132

on

Wed 12

May
Finding your dream dog walker amongst a sea of pet sitters can be a minefield and feel like an overwhelming task.
Your dog walker will become a huge part of your dogs life and development and therefore finding the most amazing dog walker is an important decision.
We have written our guide to help you decide who to pick when choosing the dog walker (or maybe you want to check with your walker now!) that is right for you – an unbiased guide written by actual dog walkers!
Talk to your doggie friends for recommendations, who do they use for a dog walker?
I'm sure this would be the first place you would start as we all know recommendations are always good to investigate.
Speak to dog owners in the park, speak to vets, speak to dog trainers etc but make sure you delve into their personal experience with the walker their recommending. Have they heard good things? Have they had first-hand experience with them? Why are they recommending them?
Take a look at their Google/Facebook page. Do they have lots of reviews/recommendations? Are they mostly positive? Always look at the replies too – they show you the type of character you are dealing with. We've seen some shockingly awful replies to bad reviews in the past. Unfortunately bad reviews aren't always as they seem and are part of the furniture while some hold more weight. Don't dismiss all straight away but do take into account.
For example: ScenterBarks have hundreds of rave reviews and recommendations on Google and Facebook. For a large business it proves our service is one of the best.
Why is this important?
First hand experience of someone who has used your dog walker and their service is an easy way to find out who is it you want to find out more about first.
Your walker
One key element when hiring a dog walker is finding out about the person you are entrusting your special family member with.
You are introducing entrusting this person with your pride of joy, an extended family member this person as a huge part of your dogs life, they will have an effect on your dogs experiences that can effect then for better or worse.
Your rapport and feeling towards the person is an extremely important factor however I would also suggest the other qualities below can sometimes be overlooked.
Experience/ qualifications
How long have they been dog walking? Experience is vital in this industry.
What qualifications/ studies have they done? Have they ever studied dog first aid, training and behaviour? N.B – you wouldn't hire an electrician without knowledge or experience. The same goes for a dog walker.
For example: ScenterBarks has been providing exceptional dog daycare and walking since 2014 (since 2008 before SB was brought to life) but on top of that we only hire experienced staff who have either studied or worked with animals in some form. Collectively they are all highly qualified with experience in dog training, animal management and many years of hands on experience with dogs and other animals in various different settings.
Why is this important?
We all love our dogs. Granted, dog walking is the best job in the world however it's not always easy. Dogs can be unpredictable and are animals and will not always be impeccably behaved Experience and qualifications will help any dog walker guide their way through the trials and tribulations that they may face and help them handle the variety of situations this job can throw their way.
Insurance
Insurance is an absolute must. Insurance guarantees peace of mind and protects you and your dog from any mishaps.
You are within your right to ask to proof of their insurance. Don't be afraid to ask.
How many dogs does your insurance allow you to walk? Most insurers do not allow more than 6 so if they say more than I would be checking their details to be safe.
For example: ScenterBarks have always held appropriate insurance which covers us to walk a maximum of 6 dogs.
Why is this important?
If they are not insured, then you could be left with a hefty vet bill for your dog with no recourse. Insurance also often covers loss of your house key for example. If they are insured but don't follow the stipulations given, the insurance will become invalid.
Organisations
There are a lot of organisations out there that dog professionals will align themselves with but what do they mean?
If your dog walker is part of such a group, ask them:
what does that entail?
why have they chosen to sign up with that organisation?
are they bound by a code of conduct?
N.B Look up the group yourself, what does it stand for?
For example: ScenterBarks are part of the Pet Industry Federation, we chose to sign up as their code of conduct for their members aligned with our own standards in duty of care to our Clients.
Why is this important?
This is accountability and professionalism. This shows that they are serious about the job they do rather than a hobby.
Training
Ok, we're not going to delve into the politics that exist in the dog training world right now! We will be putting our personal views aside for a moment!
You have, in some shape or form, decided on the behaviour you want and how you teach this to your dog. If they say they have dog training experience, then question them on that so you know more about their training style and how much experience they have. If this isn't on the same wave length as you – it may be worth reconsidering.
If you have concerns with regards to your dogs behaviour than this needs to be discussed to discover how they would work with that.
Looking through your potential new walkers previous experience you may want to take heed of any advice with regards to some elements of training however some set up with no dog training qualifications and are from a dog lover/owner position. Some problems are much bigger than a dog walker is trained for and a qualified dog trainer or behaviourist should be sought after instead.
Your dog walker may be able to recommend someone who works with their same ethos which means they are on the same page so the training is consistent. It is also fantastic if your dog trainer and dog walker have the kind of relationship where they can work together to combat any behavioural issues.
It's also worth considering the types of walks they offer. Ie, if they walk groups of dogs off lead, they will need to have far more experience with behaviour, mixing dogs, watching body language and training than somebody who is taking a dog out solo on lead. Saying that, if you have a reactive dog then you even if taken out solo, they will need to know what they are doing!
For example- ScenterBarks pride themselves on their morals and ethics. We don't like labels but we will always be kind and understanding, coaching your dog to the right behaviour in a friendly and positive manner. If you want someone to be super strict with your dog, we are probably not for you!
We have many years of dog training experience, assisting dog trainers from the APDT and studying with the IMDT who are all aligned with our ethos. We always keep up to date with the latest scientific research to ensure we give the best care to our dogs.
Why is this important?
This may not seem it but it is probably one of the top decisions you can make!
Someone who doesn't have experience (or the right experience) can make your dogs behaviour worse, rather than better.
If your dogs off lead but their recall isn't great with their dog walker, they are potentially putting that dog in danger unless they can teach recall in a safe manner.
If you are struggling with your dogs behaviour and require a trainer then do get in touch with our partner - About your dog! You can even get 10% off if you are a ScenterBarks member!
Transporting
Knowing how your dog is transported is going to show how safe your dogs will be in their hands   and you are within your right to ask questions.
You'd be surprised that in all the years of dog walking how often we've been asked to see our van set up! It's extremely rare, if at all!
There is no right mode of transport as long as the dogs are safe and secure for the service they provide. For example, a solo walker in a small car is less concerning than someone who walks several dogs together.
So what are they using?
Are they using a car or a van?
Van
Ask to take a look inside!
Are they ever putting dogs in together?
Do they have crates or are they all loose?
Are they secure?
Car
How are they transported safely? What size car do they have?
Do they have a car safety seatbelt? Crates?
How many do they transport at a time?
Are they ever put in together?
NB – Rule 58 of the Highway Code states: "When in a vehicle make sure dogs or other animals are suitably restrained so they cannot distract you while you are driving or injure you, or themselves, if you stop quickly.
For example: ScenterBarks walk up to 6 dogs so we have fully crated vans to transport the dogs safely and securely to their walks. We do not put dogs together unless from the same household and only if there is enough room for 2 dogs in the space.
Why is this important?
Accidents can happen at anytime on the road and therefore this is essential. Dogs can be distracting and could cause a crash if not secure when travelling. Dogs also need space and if confined in a small space such as a car or van, unrestrained with dogs outside their household there could be trouble.
Walks
It's important to learn about what your dog is doing when they are out with their walker. Every dog walker works differently and finding one that works for you and your dog is paramount.
Here are some of our vital questions you should be asking your dog walker on top of others.
Do you use tags with your companies contact details on?
How many dogs do you take out at a time? If more than 1, how do you introduce them?
What times do you walk?
How long are the walks
How long could my dog be out for?
Where do you walk the dogs?
Would you let my dog off lead or would you keep my dog on lead?
Do you work on recall and how?
Do you give feedback on my dogs walk and how often should I expect to receive that?
Do you take into account the dogs ages and or any
medical conditions?
Do you amend your walks when there is severe weather?
For example: ScenterBarks always put tags on our dogs so should they get lost and someone finds them we can have them returned quicker. We provide an hours long group walk where dogs are let off lead if we have permission from the owner AND have a good recall. If we don't think they are suitable to be off, we won't let them. We may keep them on for the first couple of walks to ease them in. Puppies and old dogs can book a pup visit to have a shorter, more suitable walk. We will shorten or provide house visits when the weather gets too severe for an hours dog walk. We will always amend our services to do what is best for our dogs.
Why is this important?
These points are important for safety, your dog's behaviour and their overall enjoyment when out with your dog walker.
Emergencies
The unexpected happens, that unfortunately can't be helped. Obviously your dog walker should try to limit this as much as possible but it's not always a given that may be beyond their control. Even with owners, accidents can happen.
Whether that be a dog that has run off, a dog or human injury, your walker being unwell or even a vehicle breakdown.
The more experienced your walker is, the more likely they are to have dealt with these scenarios already and have procedures in place.
Here are some of our top questions you may want to ask.
How much notice do you give when you take holiday?
What happens if you're unable to do the walk on the day?
Are you dog first aid trained?
What is your procedure if a dog gets injured in your care?
What is your procedure if a dog goes missing/gets lost?
For example: ScenterBarks staff are all dog first aid trained and carry dog first aid kits with them. As we work as a team, if your dog walker is off or a van breaks down, somebody else who knows your dog is there to step in so they're not left alone.
When you have been established for as long as we have, you begin to encounter the odd injury,  dog that's travelled too far or a staff member unexpectedly off.  Learning the best way to deal with these situations is a great way to ensure a protocol is in place when an emergency may present itself!
Why is this important?
It might sound like a given, but we have seen many panic in the stress of an emergency and not know how to handle it. Keeping your head cool and pushing out the emotional whirlwind we all have in an emergency is essential to dealing with any situation quickly and efficiently. Having a procedure and knowledge in place ready for when an emergency occurs will make things easier. It's not enough for a dog walker to think "that won't happen with me"
Cost
As with all industries, there are variations on cost and you will need to find someone who fits to your budget. Be aware that cheaper doesn't always mean bad but is generally a sign that they are fairly new to the dog walker community. However be aware of anyone that is too cheap as that may mean they don't have the business expenses such as insurance!
You will need to weigh up the pros and cons as to your budget, whether you could afford a more experienced walker and would the extra benefits worth it.
Is it worth more for the peace of mind they offer? Does their service cover you if they were on holiday or sick? Are they closed when you need them?
Make a list of what your top non-negotiables are and pick a walker that works with them.
For example: ScenterBarks are certainly not your cheaper end dog walker, the extra payment goes towards the other walkers ready to step in when there is an emergency, the extra vans which can help if another breaks down or has to have work done.
Why is this important?
On face value, this may feel like an unimportant point. You may decide to follow the above points and once you've found your dog walker you will pay the cost. However, don't start at this point!! Don't choose someone based entirely on their cost first. Obviously don't pick a walker you cannot afford but don't go with the cheap and cheerful for that reason alone and consider all the above points.
If ScenterBarks dog walking service sounds like the ideal fit for your dog then take a look at our dog walking page or get in touch to find our more here!