Keeping your dog calm on Bonfire Night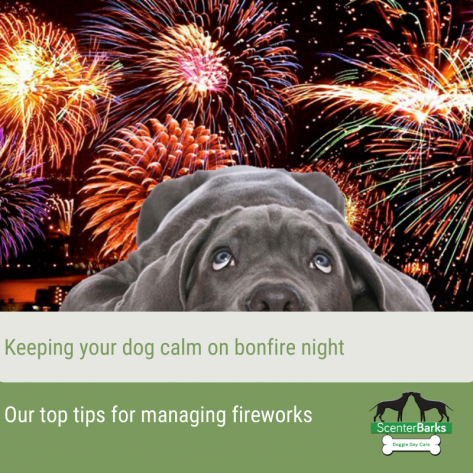 2019-10-304

on

Thu 31

Oct
It's coming up to that time of year when strangers are knocking at our front doors for trick or treating, and fireworks are banging and flashing away in the sky...it can be a really distressing time of year for our dogs.
Here at Scenterbarks HQ the team have been talking about our top tips and remedies to keep our dogs calm and stress-free this season.  Read on for some of our ideas, we hope you find it useful!
Early walks
As fireworks tend to go off when it gets dark, try walking your dog a little earlier in the day.  Try and encourage a nice, calm walk rather than something super energetic.  Perhaps take your dog to a place where there are plenty of places to sniff, and hide some tasty treats for him to find.  This is like taking his brain for a walk and will help to tire him out!

Top Tip: Try some 'find it' games at home, fill up an old box with shredded paper or roll up an old towel and hide some treats inside.  Your dog will really enjoy using his brain and it will help to distract him too.

Or, why not try out the #scenterbarkseffect and book your pooch in for a lunchtime walk with our award winning dog walking team?  You can book in for regular or adhoc walks in the Hampshire countryside; your pooch will return feeling happy and tired!  Call or Email us to book!

Escape-proofing
When a dog is scared, he may attempt to run away from the thing that he is scared of.  Hearing a big, loud, scary bang or bright flashing lights could result in your dog making a dash for it, so it really is worth thinking about escape-proofing any areas of your home or garden to keep your pooch safe.

Top Tip: Make sure that your dog is microchipped and wearing an up to date dog tag.

Create a calm zone
Preparing a nice snuggly, safe space for your dog to rest and relax is paramount.  Create a calm zone at home for your dog to enjoy.  Put the television or radio on low to dull out some of the noise outside, give him his favourite toys and snuggly blankets, fill up a kong or give him a super tasty chew. Speak calmly to your dog to reassure him that everything is ok and let him cuddle up with you if he needs it.  

Top tip: Dogs do take a little time to recover after feeling stressed so leave the calm zone accessible so that he can continue to rest and relax there.

Try a natural calming remedy
There are a variety of natural remedies on the market which help to reduce anxiety and maintain a state of calm.  Here at Scenterbarks we have a whole host of fantastic Pet Remedy products available in Reception with calming essential oils.

We have a luxury bandana with a mini bottle of pet remedy that you can spray and tie around your pooches neck.  We also have a de-stressing and calming atomiser which you can plug in at home and let the scent fill the room, plus some calming spray that you can use on bedding and in his calm zone.  

Just pop in to purchase yours and we can give you any advice you need!
We hope that you have found this information useful and that you have some tools and techniques to help you and your pooch have a calm and stress-free fireworks night.  

If your dog is really struggling and feeling very afraid and distressed, please do contact your vet as there are a variety of medications available should you need them.