Supporting your dogs through lockdown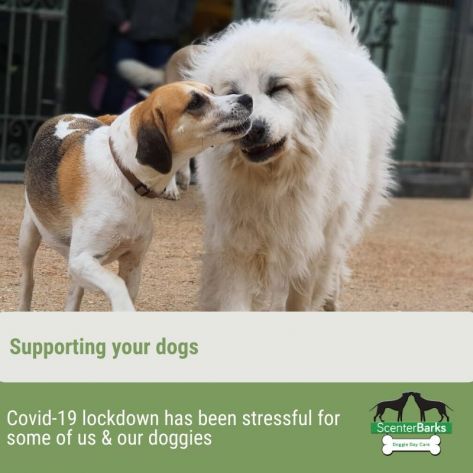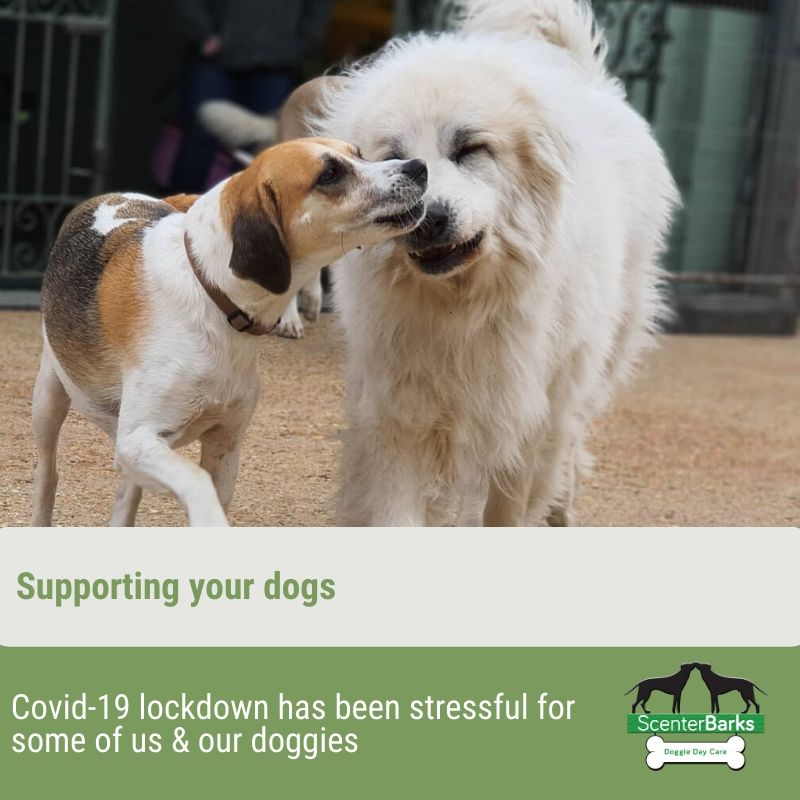 2020-05-140

on

Tue 19

May
I'm sure you'll agree that this lockdown, that we have never in our lifetime experienced, has been crazy, stressful & scary. We believe it has had a similar effect on our doggies. Some have adapted more easily than others and some will struggle once this is over, rather than during the period of lockdown itself.
Just like us, our dogs experience things differently as individuals. We have heard lots of our customers describe their dogs as 'depressed', 'missing dog company', 'bored' etc. And I too feel my Frenchie Rossi has been a little sulky since his regular routine of daycare every day has stopped.
We've heard of a few dogs losing a lot of weight and some owners have said that they have been popping out without their dog, so that they remain used to being on their own. We believe some dogs may experience some separation anxiety once we start back to work again.
So with this in mind, here are some suggestions of a few things you can do as dog owners to help support your doggies during this time. 
1. Keep to some routine
Ideally we think the best advice is to try & keep your dogs routine as close to pre-lockdown as possible. Now, we understand you can't just pop to work & leave your dog, but things like breakfast at roughly the same time or your regular morning walk if that's your routine is great to try and keep to.
If your routine includes our daycare or walking services, we suggest book your dog in on the days  they were in before, or if this isn't possible, just a day or two a week to keep them familiar with our services and routines; it will help the dog to have a feeling of 'normality'. I know personally how great it feels to feel a little of what life used to be like and I'm sure our dogs feel that too.
Fulfilling your dogs needs is important now more than ever.
2. Walking your dog
Walking the dog has been a lockdown lifeline for some, I know that was the case in our house.
It is super important that we walk our dogs to give them the mental and physical stimulation they need. Also, a good sniff round is the equivalent of us reading the newspaper or scanning through Facebook! Catching up with what's going on in the world. 
Try not to over walk your dog.  I know we are all desperate to head out for the day with our doggies now that the government allows it but just like us, our dogs need a sustained level of fitness in order to handle more. Ever joined the gym after a long time?  You hurt the next day right? Well our dogs feel this also.
Keep your dog safe, on lead is the advice, be careful around other dogs, if you had to retrieve your dog close to another person you would be too close for social distancing, so there is some common sense needed as to where and when you can let your dog off lead, if at all.
3. Brain games
You don't always need to walk to tire your dog out.
Exercising your dog's brain is easy! It can be an interactive game you've purchased or a loo roll folded up with treats inside. All these things help the dog use his nose, ears & brain to get stimulation.
Our favourite activities are:
Lick mats - these can make your dogs dinner last an hour or so, or keep them entertained while you have to go out. ( available in SB reception). These are also great to keep your doggies busy while you do a gentle spot of grooming on your dog.
Kongs - same as the lick mats really, you can stuff with all sorts of yummy treats.  If you type Kong fillers into Google, you'll get many many ideas from ice lolly to roast dinner stuffing! We advise you get the correct Kong for your dogs size, we wouldn't want a Kong to end up down a dogs throat because it's puppy sized and you've given it to your adult Labrador!
Kongs are also great for 'find it games'. Hide a filled Kong somewhere in your front room (behind the sofa if accessible) and let your dog sniff it out - they love this kind of game!
DIY games - these you can do at home with mostly everyday stuff you probably have... grab a towel, sprinkle treats all over & roll it up so the dog has to sniff out the treats and work out how to unroll it to find them.  This acts as an instant reward also as the treats appear. 
Loo rolls AKA lock down gold dust!  Or kitchen rolls, once empty, fold the ends over to form a lid/door, fill with treats & let your dog figure out how to get into it, rewarded with their treats once he's in!
We hope some of these thoughts & ideas help you support your dog during this time.
Take note & think about how your dog is feeling, if you do need advice we are on the end of the phone.  We know many fabulous behaviourists in the local area we can refer you to should you need it.
If Scenterbarks can help you with any dog walking we are following all industry & government guidelines to keep all parties safe. Just head over to our walking page Click here  and you'll find a dog walking guide with some ideas of new walks to try.  We also have a money off voucher in there too!
We hope you are all staying safe, happy & well. Hug those dogs a little tighter (if they like it ;-) ) and take care of your four legged friend.